PRINTED CARDS DELIVERED IN FOR EX VAT


CARD TYPE? HOW MANY? HOW FAST?
Add extras for as little as 2p
DELIVERY*
* Number of days
shown is based upon
a working week of
Monday to Friday
starting from approval
of artwork

MAINLAND UK ONLY. EXCLUDES NORTHERN IRELAND AND ANY OTHER OFFSHORE UK ISLANDS
YOU DON'T HAVE TO USE OUR CONFIGURATOR, YOU CAN CALL
0800 988 2095
OR
CHAT ONLINE NOW -

YOUR CARD ORDER PRICE
TOTAL COST
PRICE EXCLUDES VAT ( INC. VAT)

Membership Cards
Our most popular membership card options
---
The Size
What's the best size to go for?
The Thickness
What sort of thickness should my cards be?
Technology
What technology will be the best for me?
Your Membership Cards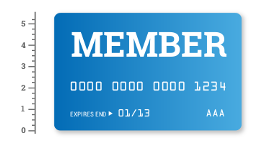 What's the standard size?
The card size used most is the same size
as your credit card - 86mm x 54mm and
0.76mm thickness.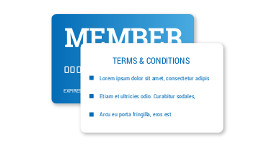 Single or dual sided print?
We can print to both sides of the card in full
colour for no additional cost.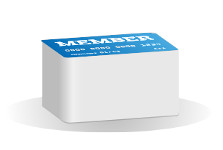 Minimum quantity?
Minimum order quantity is 100 cards.
The more you order the greater the
discount we can offer.

We'll deliver your membership cards free to mainland UK! Unfortunately this excludes Northern Ireland and any other offshore UK islands.
Working our absolute best to serve you, we have 3 speeds of service available. Choose the one that best fits you and your schedule.
The number of days shown is based on a working week of Monday to Friday. This starts from the approval of artwork.
Talk to our team now on 0800 988 2095 or
Extras

Gloss Finish
Shine, max colour
depth and impact

Matte Finish
A classic finish, stand
out from the crowd

Silver Metallic
Often used to identify
higher levels of membership

Gold Finish
Often used to identify
higher levels of membership

Signature Panel
Enables user to sign and
confirm ownership
Technology
Not sure if we can help produce the membership card you require? We offer every kind of plastic card imaginable with our huge range of encryption
and access control options. Our membership cards can include contact and contactless chip technology, NFC (Near Field Communication),
RFID (Radio Frequency Identification), access swipe, proximity tech and magnetic stripe. We also offer QR code, barcode and 2d barcode printing -
making your membership cards extremely versatile.

Speak with us today to discuss which technology would most suit your
membership card needs. We can talk you through exactly what features do what.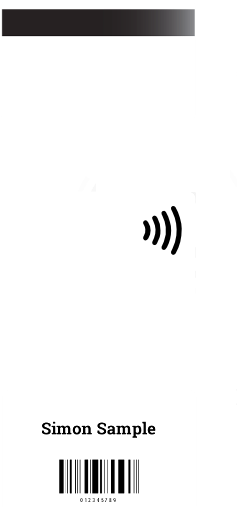 Magnetic Stripe
Stores data in the black band, used for access. Read by card readers
"The Magnetic Stripe cards were used for access to our Leisure Club and were of very good quality"
St Swithuns School
Chip Cards (Mifare)
Contactless, this means you don't have to swipe, just wave
"We're very happy with the Mifare Technology. They are used across all 25 of our business centres and we have had positive feedback from staff and clients"
i2 Office
Personalisation
Can be anything, any font, usually utilised for app with barcodes etc
"We use barcode key fobs to keep track on all our gym members, having the gym logo printed on them is also a great advertising tool as most of our clients have attached the fobs to their car keys and so the gym logo can be clearly seen when the clients are out and about"
The Gym
Ordering your cards is easy

Configure
Configure your printed cards, enter the required quantity and lead time and get your quote – instantly!

Order
Regain composure after seeing how low our prices are and place the order for your fantastic printed plastic cards

Artwork
Shortly after placing your order our Design Department will contact you for your card artwork.

Proof
Our design team create an artwork approval form so you can see exactly what your cards will look like for you to approve

Delivery
Once your cards have been manufactured they're quality checked and shipped to you within at least 12 days.
Talk to our team now on 0800 988 2095 or
Looking for something more specialised?
Personalisation
We're all created different, so create different cards! We can personalise them with numbers, names, barcodes, QR codes or any other personalisation you might require. Think outside the box.
Security
You wouldn't just let anyone in to your super-secret vault would you? So to increase security select some advanced printing techniques like micro text, holograms, secure ultra violet ink and guilloche printing which makes counterfeiting near impossible. And plus, none uninvited guests in your super-secret vault.
Custom Shape
Like different shapes and sizes? We can cut you custom shaped cards upon request, we do also offer a Combo card this is a credit card sized card with a key fob attached to it.
Why choose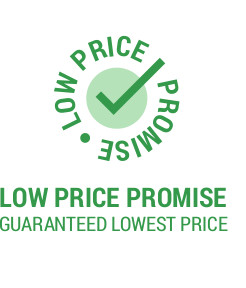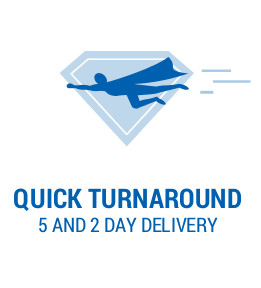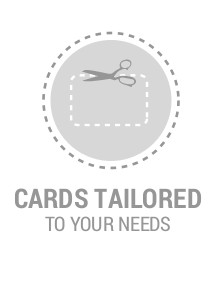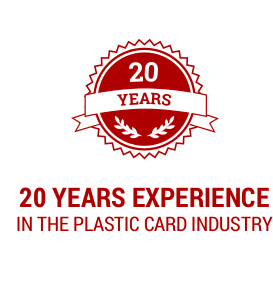 NEED SOME ADVICE?

TALK TO ONE OF OUR SPECIALLY TRAINED EXPERTS NOW
If you have any questions about creating your Membership card you can
chat online or call us...
CHAT ONLINE

or CALL 0800 988 2095
Questions that we are frequently asked…
How do I provide the artwork?
The artwork will need to be sent to us in a certain way, nothing too complicated though. Our Design Department will contact you shortly after we receive your order and guide you through the process.
What security features can you offer to make my cards more secure?
To increase security we use advanced printing techniques such as micro text, holograms, secure ultra violet ink and guilloche printing which makes counterfeiting near impossible.
Environment
Wondering which membership card design to choose? Our most popular cards are made from PVC.
While not the most environmentally conscious material on the market, these cards last for an exceptionally long time.
This is thanks to the use of premium materials and advanced production methods.
For those who do wish to use a more environmentally friendly material, we do offer BIO PVC membership cards.
These biodegrade in soil after approx. 3 years, giving you added peace of mind that you are not harming the
environment whilst honouring your customers.
Get in touch today to speak with an expert and see exactly how we can help you with your plastic
membership card order.
Talk to our team now on 0800 988 2095 or