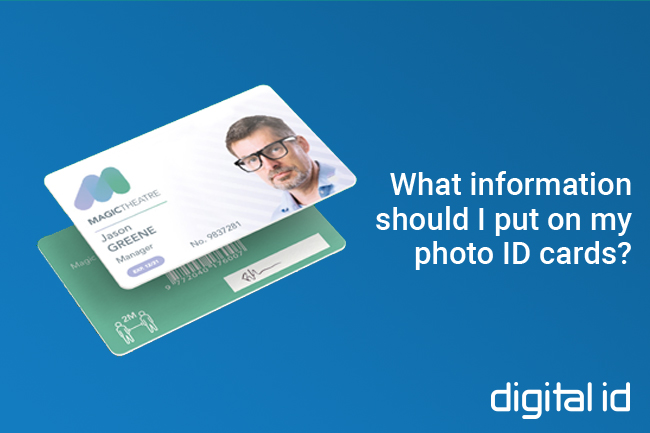 More and more companies are implementing photo ID systems in the workplace. Photo ID cards allow employers to instantly verify the identity of staff and visitors, making them an excellent choice to boost office security. But the question is, what information should be printed on these photo ID cards?
It's essential to make sure the correct information is included, as getting it wrong could be harmful. The contents of your cards should therefore be determined well before other elements are considered, such as the design.
So, what should you be including?
What to include on your ID card
Here is a full list of data and graphics that should be printed on any good ID card design in 2022:
Name of cardholder
Photo ID of cardholder
Job title of cardholder
Signature of cardholder
ID number of cardholder
Cardholder security clearance level
Cardholder identifying info (height, eye colour, gender)
Issue date
Expiry date
Barcode (to access full cardholder data)
How to return a lost card
Disclaimer and organisational-based policy
Company logo
Company contact info
At Digital ID, we regularly carry out ID card printing for employees. The above list contains the elements we frequently use to create professional cards for clients, and a few more.
Additional items to include
For added security
If you're looking to make your cards extra secure, you might also want to include:
A visible watermark overlay
A holographic logo such as Magicard's HoloKote
A UV watermark overlay
As ID card providers, we know what risks and vulnerabilities come with ID cards. Adding the above features to your cards will overrule the security risks and strengthen your workplace security.
COVID-related additions
For 2022, you might also want to consider:
COVID-specific policy information
Social distancing guidelines
It's no secret that the pandemic has impacted almost all aspects of our day-to-day lives. Therefore, including COVID-specific information on your cards may be a good idea to remind staff what is expected of them in the pandemic.
---
What should go on the front of an ID card?

The front of the card should include the necessary information you require to verify an individual's identity. In most cases, this means the card holder's identification details including their photo, as well as your organisation's name and/or logo.
The data you include on the front of the card should focus on safeguarding your organisation. Therefore, the most important points should be clear and easy to read.
It's also important to remember that more data isn't always better. Despite the exhaustive list mentioned earlier, cluttering an ID card with lots of information or adding things simply because you have space left over is a bad idea. Cards should include information that will strengthen the security of your business and nothing more.
In addition, you should avoid including sensitive data on cards. This is because if a card is lost or stolen, this information could harm your organisation or an employee, putting them at risk. Things to avoid adding to an ID card include an employee's home address or date of birth.
---
What should go on the reverse of an ID card?
Printing on both sides of a card gives you more flexibility on what you can include and helps cards look less cluttered.
There are various things you can include on the reverse of an ID card that you wouldn't necessarily include on the front. Examples include:
Lost card disclaimer
Business contact details
Cardholder signature
Cardholder fingerprint
Barcodes for access control
If you decide to use a third party company to print your cards, you will need to inform them of your content requirements. And if you haven't yet chosen who will be creating your ID cards, follow our tips to choose the right ID card supplier.
Should you be making changes to your ID cards in 2022?
With the pandemic causing more staff to adopt flexible, hybrid working patterns, employees are now on the premises at different times. This makes it essential to ensure your cards display the correct information to be able to identify staff and keep your workplace secure.
We've seen more and more organisations bringing card printing in-house to deal with staff changes during the pandemic. The increased demand in ID card printers is proof of this. However, printing services also remain common, with some companies preferring to outsource their ID card printing. Regardless of which option you prefer, we can help with both.
As the UK's leading ID card supplier, we know all about printing photo ID, whether that's on plastic cards, access cards or even paper cards.. Get in touch with our expert team on 0800 988 2095 for your ID card queries and a member of our friendly team will be happy to help you.
Alternatively, now you know what information to include on your ID badges, find out how to keep them safe and how to prevent photo ID cards snapping.