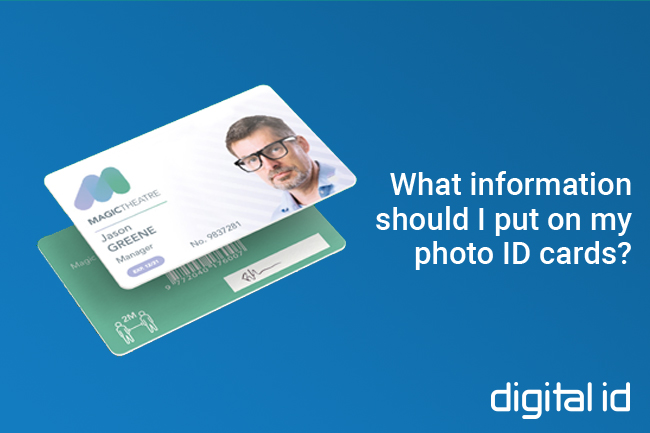 What information should be printed onto photo ID cards in 2021? Before considering designing your cards or even implementing your photo ID system, you need to determine the key information that needs to be included.
Remember, the function of an ID card is more important than how it looks: the design must be built around the required data. So, what should you be including?
Here is a full list of data and graphics that should be included in any good ID card design for 2021:
Name of cardholder
Photo ID of cardholder
Job title of cardholder
Signature of cardholder
ID number of cardholder
Cardholder security clearance level
Cardholder identifying info (height, eye colour, gender)
Issue date
Expiry date
Barcode (to access full cardholder data)
How to return a lost card
Disclaimer and organisational-based policy
Organisation logo
Organisation contact info
If security is a top priority, you might also want to include:
A visible watermark overlay
A holographic logo such as such available using Magicard's HoloKote.
A UV watermark overlay
For 2021, you might also want to consider:
COVID-specific policy information
Social distancing guidelines
---

What should go on the front of the card?
The front of the card should include the key information you require. In most cases, this means the card holder's details including a photo as well as your organisation's name and/or logo.
The data you put on the front of the card should be focused on safeguarding the security of your organisation. That means ensuring the key data is clear and easy to read, along with the most important points you need to ensure security is the top priority.
Despite our exhaustive list above, remember that more data isn't always the better option. Cluttering an ID card with lots of information or deciding to add it just because you've got space left over is a bad idea. Your cards should include information that will improve the security of your business and nothing more.
If a card is lost or stolen, you want to avoid putting sensitive data on there that could harm the security of your employee or organisation. For example, you'd never want to put an employee's home address or date of birth on an ID card.
---
What should go on the reverse of the card?
For those opting for a dual-sided ID card printer, it's really easy to print on both sides of your ID cards on a single run. This gives you more flexibility and helps the card look less cluttered.
There are lots of things you can include on the reverse of an ID card that you wouldn't necessarily put on the front. Examples include:
Lost & Found information
Business contact details
Cardholder signature
Cardholder fingerprint
Barcodes for access control
---
Should you be making changes to your ID cards in 2021?
In light of changes around the way we work, you may now wish to include extra information on your ID cards that relate to COVID-safe working practices and social distancing guidelines.
We've seen more and more organisations bringing card printing in-house to deal with extra staff during the pandemic. In fact, we've seen a dramatic increase in demand for ID card printers. For many organisations, it's useful to include a little reminder about social distancing guidelines on ID cards.
If you're updating your photo ID cards, it's worth updating your ID card policy too and circulating it with staff and visitors. It's a simple way to ensure everyone in the workplace stays safe, and shows your employees you care about their welfare.