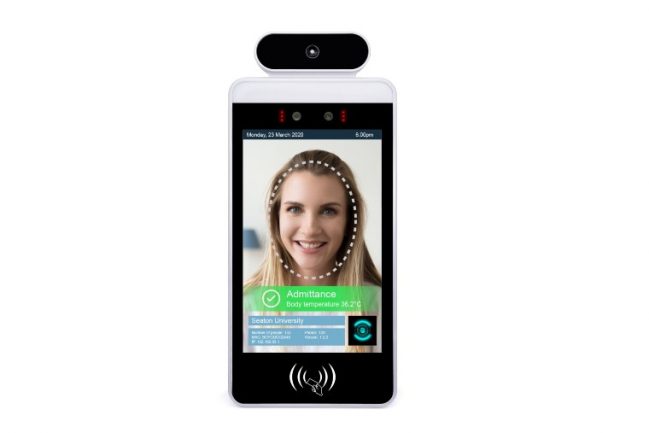 As thoughts turn to easing some of the UK-wide lockdown measures, businesses and organisations are trying to work out what the workplace will look like in the post-COVID-19 world.
There's little doubt we'll all be adapting to a new normal, with updated access control and screening protocols likely to play a big part in keeping employees and visitors safe.
The "new normal"
Businesses are starting to implement new tools and technologies to reduce the risks posed to employees, with temperature scanners being a popular form of screening. But why?
A primary symptom consistent with COVID-19 is an elevated body temperature of more than 38˚C. Thermal testing devices provide a great way of testing for this symptom in an instance.
Introducing: Temperature Screening Kiosk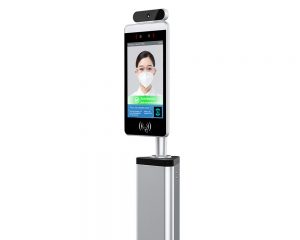 Temperature scanners are already used in places such as airports and busy travel hubs to curb the spread of COVID-19. Now, we want to be first in line to protect our customers and offer the best products to keep them safe. That's why we're pleased to introduce our Temperature Screening Kiosk. This state of the art kiosk will allow you to safely re-open the workplace and carry out daily checks on all employees and visitors.
Featuring a temperature accuracy of +/-0.5 Degrees Celsius and an ultra-quick 1-second detection time, this machine efficiently measures peoples' temperatures before granting them access to the building or workplace.
This helps cut the chances of people unwittingly introducing COVID-19 to the workplace and gives peace-of-mind to employees and visitors alike.
So how does it work?
An infrared temperature camera immediately alerts you if someone is found to have a high temperature.
We've chosen our temperature scanner carefully to make sure it is as adaptable as possible and can meet the needs of our customers. Key features include:
A hands-free touch-less operation to minimise the risk of contamination
Ultra-quick 1-second detection time with automatic alarm
Temperature accuracy of +/- 0.5 Degrees Celsius
Three-model range including desktop and pedestal variants for ultimate adaptability
Optional battery pack for use at access points with no mains electricity
Ability to mute audible warnings
Pre-bundled software for easy setup
LED status bar
Wifi and Ethernet enabled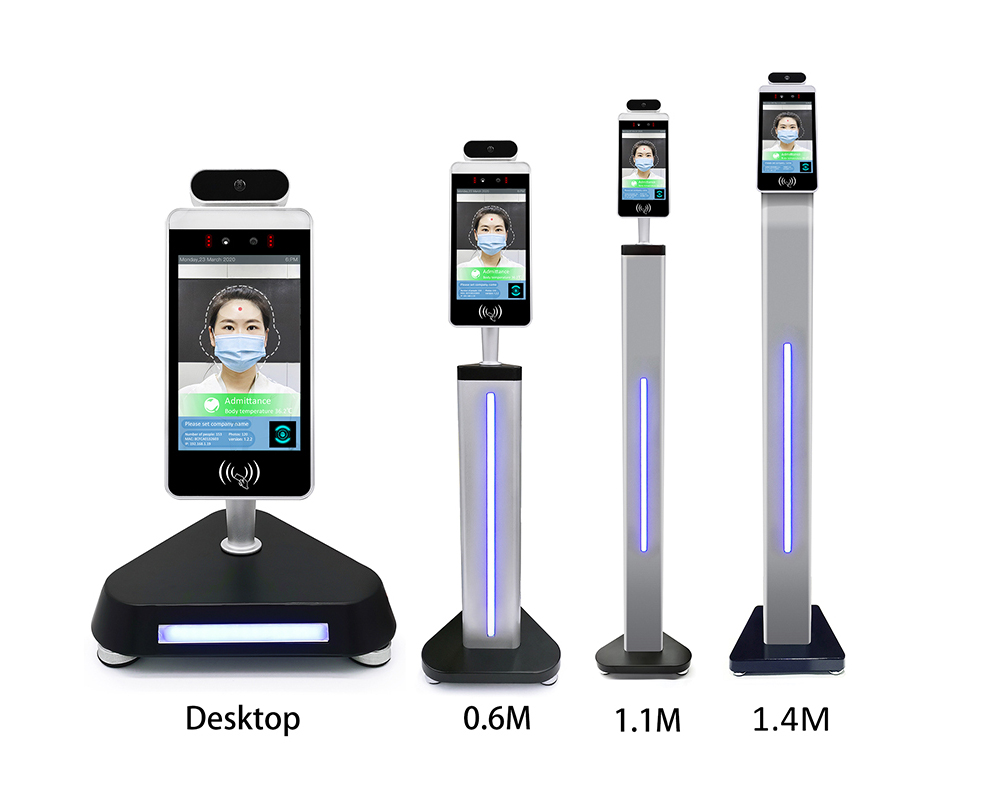 What are the benefits?
However, the benefits go beyond the health and safety of your staff, though. This is a product that requires no costly installation, and no staff are required to manually operate the device: it's a truly cost-effective solution.
Because it uses accurate infrared technology to detect a person's temperature, it also means you don't have to rely on screening questions which, as an honour-driven system, is far less reliable.
The kiosk also stores up to 30,000 faces per unit, making one unit suitable for most locations. You can find full specification details here.
Who is it best for?
We anticipate this product being popular with customers from a broad range of industries, including:
Care homes
Retail
Manufacturing plants
Large offices
Government organisations and agencies
Colleges and universities
Logistics and delivery services
Warehouses
But in reality, the list is endless. The key here is the machine will allow your business to re-open safely and remain open.
Any other features?
All models feature facial recognition that can be matched to employees if required. Unlike some temperature detectors, this also works for those who are wearing protective face masks too.
What's more, if you plan to implement it into an existing access control system, it can be combined with ID card readers and fingerprint recognition technology.
The pedestal is made from a hard-wearing metal with an anti-microbial coating. Combined with its touch-less interface, this helps to provide protection against germs and microbes.
Sound interesting?
For more information, please email sales@digitalid.co.uk or call 0800 988 2095.
On the topic of "back to work", look out for some more incoming content about how to best get your workplace ready for the return to work – we've got the products and expertise to keep your business and employees safe and secure.