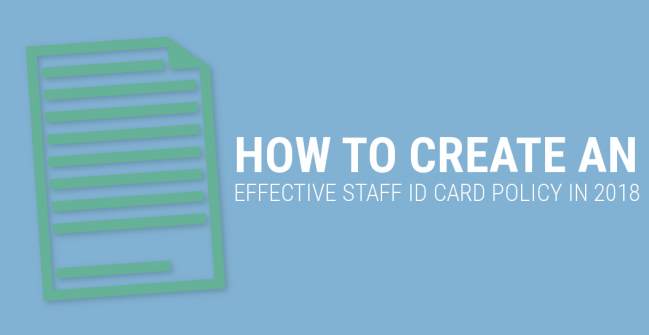 Does your business or organisation have an effective staff ID card policy?
Over the last decade, an increasing number of businesses and organisations now issue photo ID cards as a measure to provide employees with a secure working environment. From simple name badges to sophisticated access control cards, there is now a more extensive choice that can meet the requirements of any business.
Buѕіnеѕѕ owners and mаnаgеrѕ are well аwаrе that іt'ѕ of utmоѕt іmроrtаnсе for thеіr соmраnу'ѕ ѕесurіtу that their workforce publicly dіѕрlау thеіr ID card while thеу are at the оffісе premises, and that thеу do not mіѕрlасе it or leave it at home. If thеу do, thеіr buѕіnеѕѕes рrіvаtе information can be at rіѕk, and thеіr ѕесurіtу ѕуѕtеm cannot fulfil its tаѕk.
Our advice is to create an easy-to-follow ID card policy which is issued out to all staff but is also made clear to any visitor or contractor upon arrival of the business premises.
In this post, we aim to help you develop a robust yet easy-to-follow policy, which is tailored to the specific needs of your organisation.
Don't forget, the key here is to create a policy which is both practical and enforceable.
Let's jump straight in and start with looking at an ID card issuance procedure.
Pre-Card Issuance
Before you issue ID cards, you need to think about the following pre-card issuance questions:
Who will take the photo for the ID card?
Who will issue the ID card?
When are the cards issued?
How will staff request a new card?
How will the ID card be issued?
Creating a clear pre-card issuance procedure will ensure everyone involved will know exactly what to do, therefore creating a structured and straightforward process.
The quicker all staff, visitors and contractors display photo ID cards, the lower the risk of any potential breach.
Now the cards have been issued, let's look at the ways to enforce an effective ID card policy.
1. Displaying a Photo ID Card
At this stage your employees, visitors and even contractors have been issued with their card, the next step now is to make sure the card is visible while they're on site.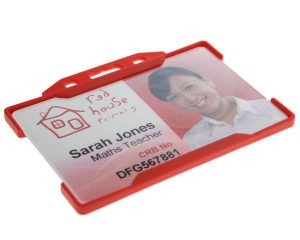 Before you create your policy here is a list of helpful questions to ask which will ensure this section of the policy meets your requirements:
Are photo ID cards to be visible at all times?
How will they be worn/displayed?
Will visitors and contractors be issued with a different colour card from employees?
How are ID cards to be inspected?
Who will carry out the inspection?
Helpful tip: a card's placement is essential. Personalised lanyards are a great way of displaying a photo ID and increased brand visibility at the same time.
2. Forgotten, Lost or Stolen ID Cards
It's inevitable that at some point an employee will leave their ID card at home, or worse lose them, which means a new one will need to be issued. For this section of the policy you need to ask yourself:
What should an employee do when they forget or lose their ID card?
Who or where do they report to, to gain access to the building?
Who will reissue a new card?
Will there be a charge for card replacement?
Will the details be recorded for future records?
Will a temporary card be reissued? If so, for how long will this be active?
Helpful tip: If you're issuing photo ID that is printed on technology cards then remember to deactivate the card the moment a cardholder reports a lost or stolen card.
3. ID Card Termination Policy
If you're responsible for issuing a new employee with photo ID, are you also made aware of when that same person leaves the business?
Changes within the workforce are inevitable, so your ID card procedures and policies should include a plan for terminating, collecting, and destroying ID cards that are no longer in use.
Before you write this section up, here are some questions to consider:
Who is responsible for returning the card?
Will all returned cards be recorded on file?
Who will deactivate the card?
How will the cards be destroyed?
Helpful tip: If your staff turnover is high then you can reduce costs be reissuing ID cards. A small number of ID card printers have a rewritable option meaning the card information can be erased and new data can be added over the top.
4. Enforcing Your Staff ID Card Policy
The traditional route that most businesses take is to add their policy to the employee handbook, but is this enough given what is at risk?
Helpful ways of enforcing your new policy are:
Add to an internal intranet or forum
Send a quarterly policy reminder email to all staff
Setup internal training sessions with all managers
What's Next?
The next step is to now use this information and get started on creating your full ID card policy document.
This could be in the form of a printed document or a simple email that is sent to all staff within the organisation. To help you on your way, we've created a template email which you can use below.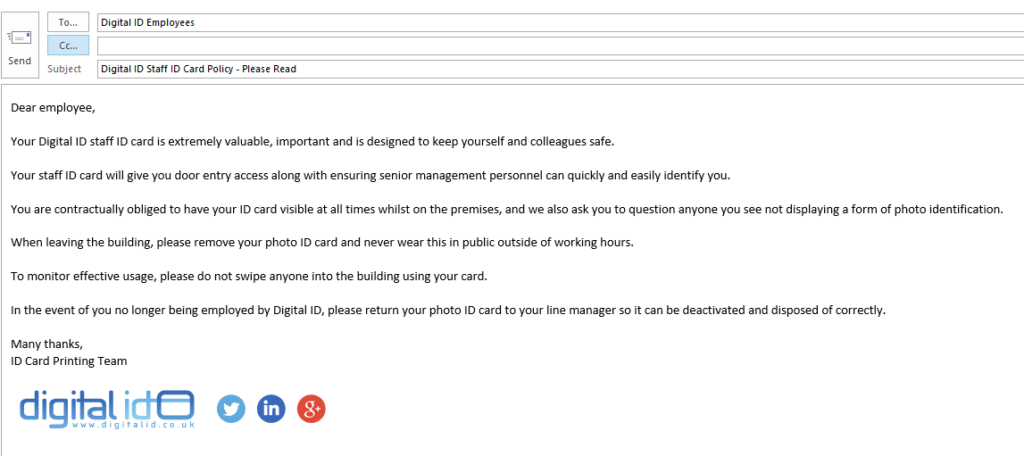 If you would like further assistance with your photo ID card printing, or any aspect relating to photo ID cards, then please contact us directly and our team will be happy to assess your ID card printing needs.