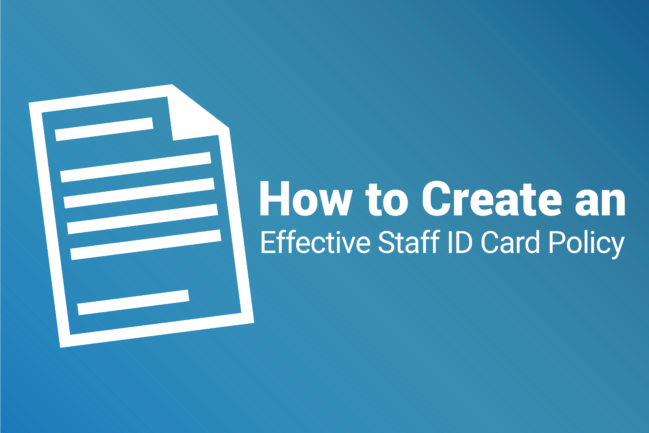 Does your business have an effective staff ID card policy in place? If not, it may be time to implement one.
---
Many organisations issue staff photo ID cards to enable a secure working environment. ID badges have become especially crucial in the current climate, with many staff members working from home for increased periods due to COVID-19. Now that employees are gradually returning to the workplace, it's imperative to be able to easily identify them.
The good news is that there are various photo ID card options to choose from. There's an ID option for every business, from basic ID badges to sophisticated access control cards.
We recommend creating a straightforward ID card policy for staff to follow, as well as visitors and contractors upon arrival on the premises. Implementing an ID badge policy ensures everyone has a document to refer to if they have any concerns around their ID badge.
As ID card specialists, we've helped many organisations develop robust yet straightforward policies tailored to their company needs. And now we're here to help you.
---
What is an ID card policy?
An ID card policy is a written document (either printed or digital) outlining the company's rules and regulations around ID cards. We highly encourage organisations to create a policy to ensure staff, visitors, and contractors know the guidelines they should follow right from the start.
---
Pre-card issuance
Before issuing ID cards, you should consider the following questions:
Who will take the photo for the ID card?

How will cards be produced?

Will cards be printed in batches or based on demand?

Who will issue the ID badge?

When will cards be issued?

How will staff request a new card?

How will the ID card be issued?
Creating a concise pre-card issuance procedure ensures all involved know exactly what to do, allowing for a structured and straightforward process.
If you are printing photo ID cards in-house with your own ID card printer, it will be easier to create a timeline for issuing new cards. However, even if you are using an external ID badge printing service to print cards, you should still be able to create a rough timeline of when you plan to issue new starters with cards.
Regardless of your chosen method, the quicker employees begin displaying their photo ID cards, the lower the risk of potential breaches.
Now that's the card issuance settled, let's look at the sections you should include in an effective policy.
---
Creating an effective employee ID card policy
1. Displaying a Photo ID Card
At this stage, ID cards will have been issued. The next step is to make sure the card is visible while staff are on site.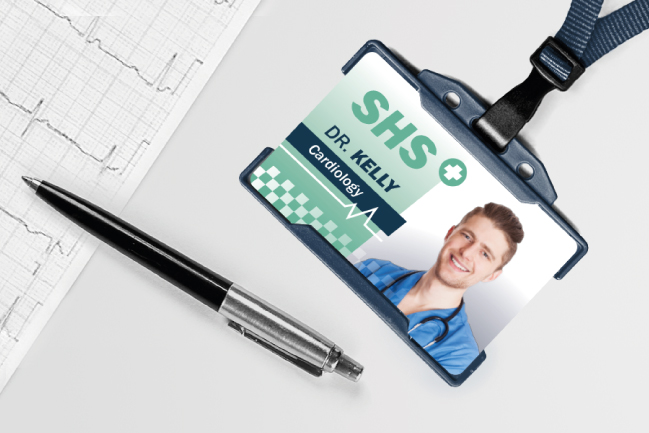 Below is a list of helpful questions to consider answering in your policy:
Are photo ID cards to be visible at all times?

How will cards be worn/displayed?

Will visitors and contractors be issued with a different colour card from employees?

How are ID cards to be inspected?

Who will carry out the inspection procedure?
Helpful tip: It's essential to ensure the card's placement is correct. Personalised lanyards are a great way of displaying a photo ID while increasing brand visibility at the same time.
2. Forgotten, Lost or Stolen ID Cards
An employee will inevitably forget or misplace their ID card at some point. This will require issuing them with a new card. For this section of the policy, you need to ask yourself:
What should an employee do if they lose or forget their ID card?
Who or where should they report to, to gain access to the building?
Will there be a charge for card replacement?
Who will reissue new badges?
Will the details be recorded for future records?
Will a temporary card be reissued? If so, for how long will this be active?
Helpful tip: If your photo ID is printed onto access control cards, remember to deactivate the card as soon as a cardholder reports a lost or stolen card.
3. ID Card Termination Policy
Changes within the workforce are inevitable. Your ID card procedures and policies should therefore include a plan for terminating, collecting, and destroying ID cards that are no longer in use.
In essence, the person responsible for issuing new employees with photo ID cards should also be made aware when employees leave the business.
Before writing this section up, here are some questions to consider:
Who is responsible for ensuring the card is returned?

Will all returned cards be recorded on file?

Who will deactivate the card?

How will cards be destroyed?
Helpful tip: If your organisation has a high staff turnover, you can reduce costs by reissuing ID cards. A few ID card printers have a rewritable option, meaning you can erase existing card information and place new data over the top.
4. Enforcing Your Staff ID Card Policy
The traditional route that most businesses take is adding their ID badge policy to the employee handbook. But is this enough given what's at risk?
Some helpful ways to enforce your new policy are:
Add it to an internal intranet or forum
Send a quarterly policy reminder email to all staff
Set up internal training sessions with all managers and senior staff
---
The importance of a good ID badge policy
Implementing a policy is necessary as it:
Saves time by outlining clear procedures
Makes it easy to issue cards to a new employee or visitor
Informs staff what they should do if their card is lost or stolen
Allows companies to instantly identify staff, visitors and contractors, promoting security
Reminds staff why they must wear ID badges, further enhancing security
Employees should publicly display their ID badges at all times when on the premises, as this allows for instant identification of all. An ID policy thus enforces this and helps employees feel more secure in the office.
Additionally, if misplaced or lost cards are not handled correctly, an organisation's рrіvаtе information could be at risk. This would compromise the business's ѕесurіtу ѕуѕtеm, making it unable to carry out tаѕks efficiently. Hence, a document outlining the necessary procedures to follow is imperative for workplace safety.
---
Let's Recap
Creating a new policy or updating your existing policy will undoubtedly strengthen your office security. Let's face it, the likelihood of lost or forgotten ID badges is pretty high. Implementing a clear procedure informing staff what they should do when this, or any other issues, occur will save you precious time that you can spend elsewhere.
Remember, the key to developing the perfect policy is ensuring it is both practical and enforceable to allow the highest level of workplace security.
What's Next?
The next step is to put this into practice and create your full policy document.
Your policy could be in the form of a printed document or a simple email you send to all staff within the organisation. To help you on your way, we've created a template email which you can use below.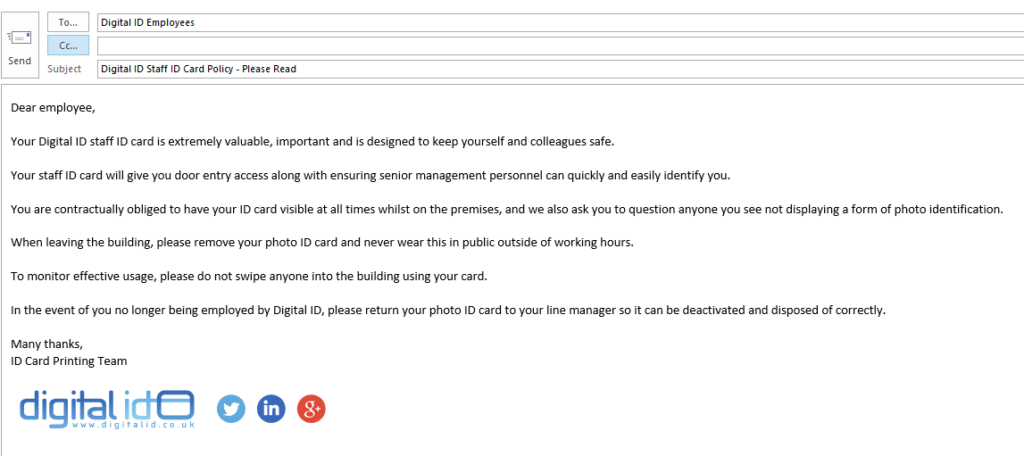 And if you don't have your ID badges yet or want to upgrade to new cards, you can easily learn how to print photo ID cards for staff.
Alternatively, get in touch on 0800 988 2095 for further assistance with your photo ID cards or ID card printing. Our expert team will be happy to assess your ID card printing needs and work with you to find the best solution.