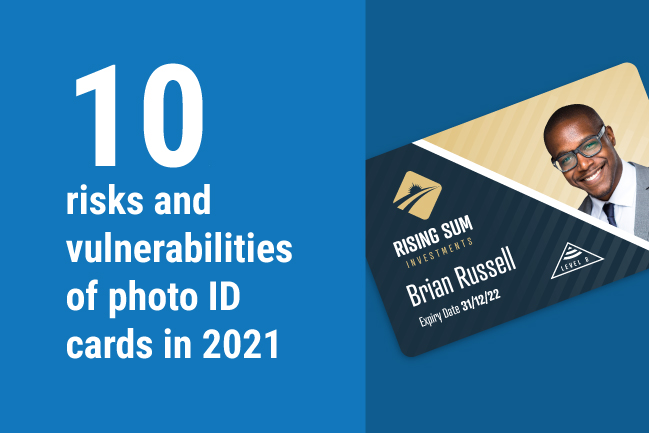 As workplaces return to full capacity, photo ID is more important than ever. Knowing who is on your site and when is paramount to keeping everyone safe.
And while many people might think that having photo ID cards is enough, there are some vulnerabilities that we think you should know about.
Based on emerging trends and an increase in demand, here's our top ten to look out for in 2021.
1. A lack of visual security
Let's start with the basics. If an ID card has a simple design and no visual security, it's effortless to clone. In other words, if you've no way of telling the difference between your cards and a cloned attempt, you may want to consider adding something like a visible or UV watermark.
Many ID badge printers support this kind of technology, and in some cases, even allow you to print your organisation's logo as a UV watermark. It's certainly worth considering if you're operating an older ID card printer or have started to produce more ID cards.
2. Outdated designs
When was the last time you changed your ID card design? If you're struggling to answer that question, then it's time for a refresh. We're also seeing a growing trend for double-sided ID card printers, as organisations now look to print to both sides of the card post-pandemic. Utilising the space on the reverse of the card with updated policies or new procedures post covid-19 not only helps the business but shows the card bearer that steps have been taken to ensure and improve safety.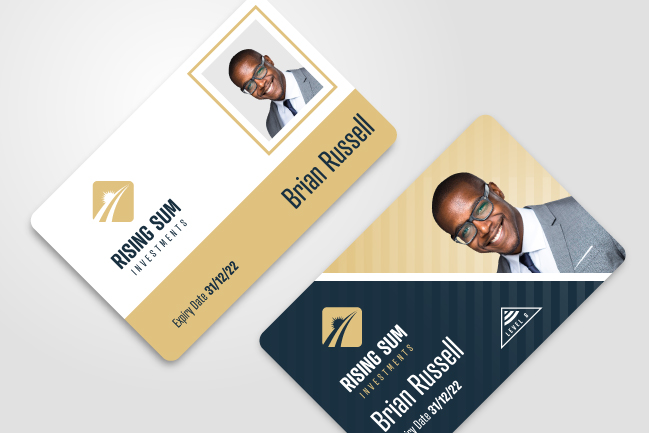 Designs that go unchanged are easily copied, and we've even seen instances of well-known corporations operating the same card design for years at a time. We recommend you change the design at least once every two-three years.
3. Sharing images on social media
This might not seem like an obvious one, but we've seen several people of high-profile organisations sharing pictures of their ID cards on social platforms. Not only does this potentially reveal sensitive data, but it also allows for malicious parties ready access to your ID card design.
It's important to include regulations about this kind of sharing within your ID card policy when staff are welcomed into the organisation.
4. Lack of spot checks
Do you carry out regular spot checks within your organisation? The point of an ID card is that it enables you to identify anyone within your site immediately. There's not much point in issuing ID if this doesn't occur, particularly during entry and exit. If you don't have the resource to man this 24/7 then our unclonable ID card solution could be just what you need.
5. Photos not being updated
ID card printer technology changes. Security features do too. And so do we. You might already be aware that you have to renew your driving licence every ten years. This ensures the photo used remains up-to-date and makes you recognisable.
To a lesser extent, the same should apply to ID cards. If you have members of staff that have been with you a few years, it's certainly worth thinking about.
6. Cloning technology
Aside from the card design itself, if your ID cards function as access control cards with technology such as MIFARE and HID, it's worth being aware of new cloning tools that are freely available.
Older, lower frequency technology cards are particularly vulnerable and can be cloned using a cheap £30 tool off Amazon. If you're still operating a legacy technology such as Prox, it's worth thinking about upgrading your cards and access control system.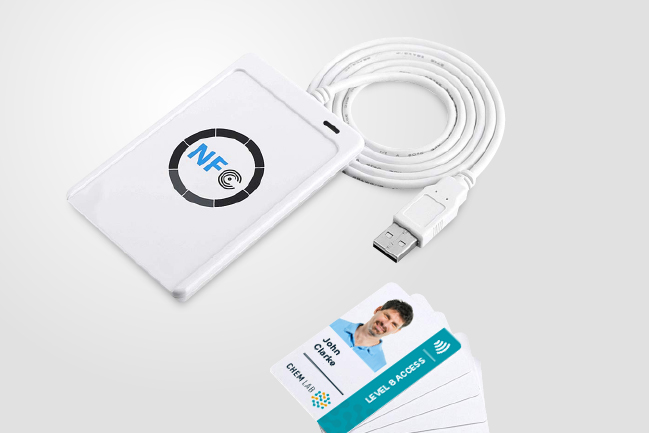 7. Hand sanitiser
Hand sanitiser: it's become one of the most common aspects of daily life in the workplace. While it's great at killing germs, it's not the best when it comes to maintaining ID cards.
The chemicals and alcohol in hand sanitiser and other cleaning products leads to accelerated degradation of ID cards. This can erase important information from the card, as well as the photo from the ID itself. One way of avoiding this is to choose a retransfer ID card printer. These printers press a protective overlay into the card during printing, making it much less susceptible to wear and tear.
8. Card wearing accessories
There's not much point in issuing ID cards if it isn't visible at all times. As we mentioned earlier, you should be able to carry out a spot check at any time, and ID should be visibly worn by employees.
Supplying them with lanyards and card holders helps ensure that ID is visible at all times.
9. Exit policies
We've all been there. You have to let go a disgruntled employee. There's always the risk they may attempt to sabotage anything they can before they go. Regardless of whether they have malicious intent, ensuring that staff ID is returned when an employee leaves is imperative to protecting your company or brand.
It's amazing how many people don't do this, but it's well worth making it a part of your ID card policy or speak to other departments to get this setup.
10. Blank cards
And now for a seemingly obvious one. If you don't have an ID card design to start with, you might want to consider it. Lots of people make do with blank access control cards.
But this means that you might leave yourself open to criminals pretending to have an access control card that doesn't work. Combining staff ID with your access control cards ensure this won't happen.
What's Next?
If you think any of the above points are relevant to you, or your ID cards need a refresh then we'd love to help.
For a free card design/security evaluation call 0800 988 2095 or email sales@digitalid.co.uk with the subject line "ID Card Review".