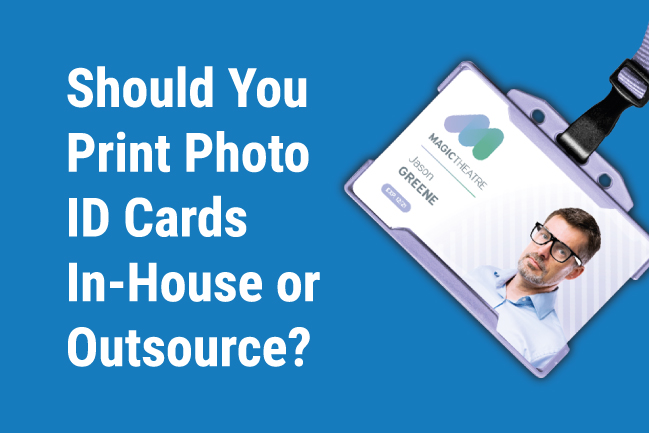 When it comes to printing photo ID cards, there are two main options to choose from:
In this post, we're breaking down the pros and cons of both options to help you decide which is best for your business. Let's get started.
---
In-House ID Card Printing 
The main benefit of in-house ID card printing is that you can print cards whenever you require.
As your ID card printer, other necessary equipment and colleagues or visitors are already on-site, cards can be produced on an ad-hoc basis when required.
The process of taking an ID photo, adding data to a spreadsheet or portal and sending it to your supplier can be time-consuming. With in-house ID card printing, you don't have to worry about any of that.
The benefits of in-house printing
Printer and system tailored to your card requirements
Flexibility
Lower security risk
Portray a professional image to staff and visitors
Can print large volumes with ease
Comply with policy and procedures
Reduces the cost of using a third party
Time savings
No lengthy card delivery times or costs
ID card printers can be complicated to get accustomed to, therefore it may take some time to get used to using your printer. However, once you've navigated your way round it, you will be able to easily print out large batches of cards in no time.
Training additional staff on how to use your ID printer can save even more time. For example, if a staff member was absent and cards needed to be produced, another staff member could easily carry out the task.
Having equipment ready on-site means you can print ID badges any time. Furthermore, if it's specifically staff photo ID cards you require, we have a complete guide on how to print staff photo ID cards.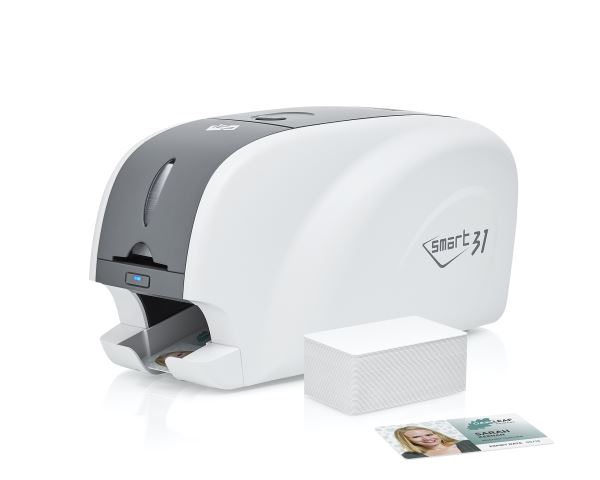 Cons of In-House Printing 
Basic photo ID cards are produced, which may lack a truly professional look
Initial costs are higher as you will need to purchase the printer, ribbon and relevant equipment
Long-term costs can easily mount if printing low volumes of cards, such as less than 50 a year
Printing your own cards in-house is ideal if you're printing high volumes of card each month. Similarly, if you're looking to reduce the likelihood of your photo ID cards causing a security breach, in-house ID card printing may be for you.
And if you do decide to opt for in-house printing, you'll need to get the photo ID right. Check out our tips for taking the perfect ID card photo.
Now let's take a closer look at using an external ID card printing service.
---
ID Card Printing Service
Outsourcing to the ID card printing professionals is undoubtedly the easier option.
Using an outsourced service allows you to simply order your ID cards and go about your day. It's that simple.
You just have to wait for your cards to arrive while the technical work is all done for you. This is something many businesses look towards; outsourcing technical tasks.
The benefits of using an ID card printing service
Professionally produced ID cards, free from errors or mistakes
Saves time, meaning you can complete other essential tasks
No need to rearrange your schedule to fit in ID card printing
Cards can be printed and with you in just a couple of days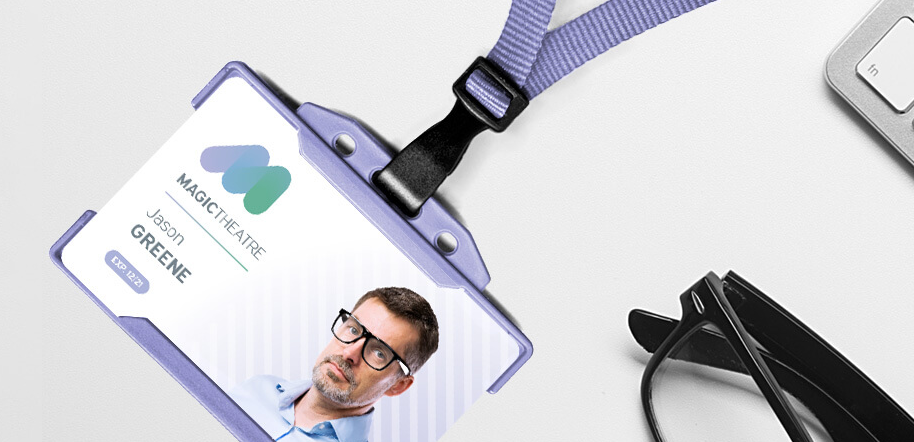 Cons of Professional Printing: 
Delivery times and costs
Costs can quickly add up if you regularly require ID cards
Contacting suppliers to request alterations or a change in card design or requirements can be inconvenient
Adding security features, lamination or complex designs will incur higher costs
You may end up purchasing your own printer if requirements or volume changes, incurring additional costs
Third party ID card printing services are advisable for small businesses, local clubs or groups. A printing service is also suitable for any organisation with a low print volume and those potentially looking for a basic level of photo ID.
---
Which Option is For You?
No matter the type of business you run, either option can work.
However, each method is suited towards the requirements of different organisations.
For businesses who only need a one-off batch of ID cards or only order batches a couple of times a year, using an ID card printing service makes sense. These organisations may not be able to justify the cost of expensive printing equipment they are barely using.
For establishments such as schools and colleges which need to regularly print cards for immediate use, printing photo ID cards in-house is a more suitable option. Printing ID cards in-house is efficient as printers will regularly be used and cards can be issued instantly. However, the final decision is yours.
If you're interested in finding out more about ID cards, learn how to prevent broken photo ID cards with these tips.
To discover more about our ID card printers or ID card printing service, get in touch today by calling 0800 988 2095. Our expert team is always happy to help.