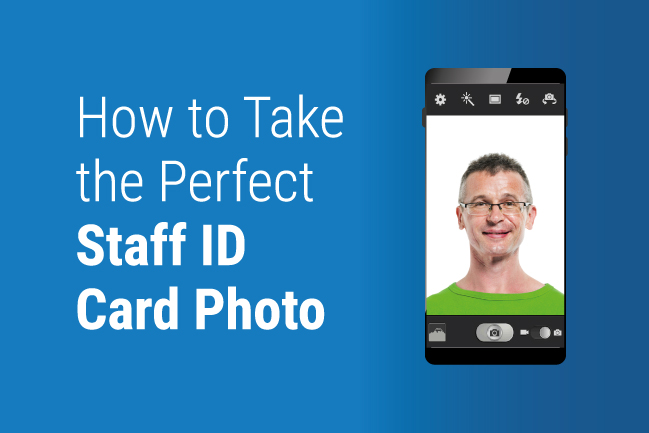 What's the most important part of creating a staff ID card? You guessed it, it's the perfect ID photo.

Unfortunately, sometimes the process of taking a good ID photo can be difficult. Various issues can arise, meaning it can take multiple attempts to get the perfect shot.
For example, employees may feel uncomfortable with someone taking their picture, which may cause them to move or fidget, or images may contain a shadow.
With various factors to consider when taking an employee ID badge photo, we're here to help you get a professional result.
Taking the perfect ID card photo
Whether you'll be creating your own ID cards or will be outsourcing to a secure photo ID card printing service, you'll want your photos to look professional.
To take the perfect staff ID card photo, you should focus on:
Location
Positioning
Backdrop
Lighting
Practice shots
Environment
Camera Memory
We'll take an in-depth look at each aspect a little later on. But first, let's dive into why it's important to take a great ID card photo.
The importance of a good staff ID photo
A good quality ID photo is important to:
Maintain a professional corporate image
Keep your organisation secure from potential threats
Ensure only authorised personnel are on the premises at all times. This is especially important in the current environment, with more staff adopting flexible, hybrid working patterns post-Covid.
Taking good quality ID card photos ensures your organisation can instantly identify individuals from their ID badges. With various risks and vulnerabilities of photo ID cards, unclear ID photos can also put your organisation at risk. This is because an external threat could deceitfully claim a photo is of them, depending on how unclear the photo is.
Tips for taking the perfect staff ID badge photo
Now let's take a deeper look into each aspect of taking the perfect staff ID photo.
Location
You don't need a huge room. In fact, you don't necessarily need a room. Finding an area that has enough space for you and the subject will work just fine.
Bonus Tip: Make sure that your chosen location isn't a busy area, as this could cause distractions when pictures are being taken and could slow down your productivity.
Positioning
To make things easier for both yourself and your colleagues, our photographer suggests encouraging colleagues to sit down. However, if the person would prefer to stand up, that's fine.
The benefit of having your subject sit down is that you can keep the camera and tripod at the same length, giving the photographs a little bit more consistency.
It's also important to ensure the subject's hair is away from their face, allowing their full face to be captured for the photo ID.
Bonus Tip: Offer your subject a mirror so they can make sure their face, hair and outfit are neatly styled for their employee badge photo.
Backdrop
White, grey and light blue backdrops are the most common background choice for corporate images. Backdrops can be a solid wall or a mobile pop-up so that you can take photos in different locations. This may be more convenient for larger organisations with multiple sites.
A neutral background can enhance the face of your subject. This makes the ID card photo look more professional than a messy ID photo with a dull background.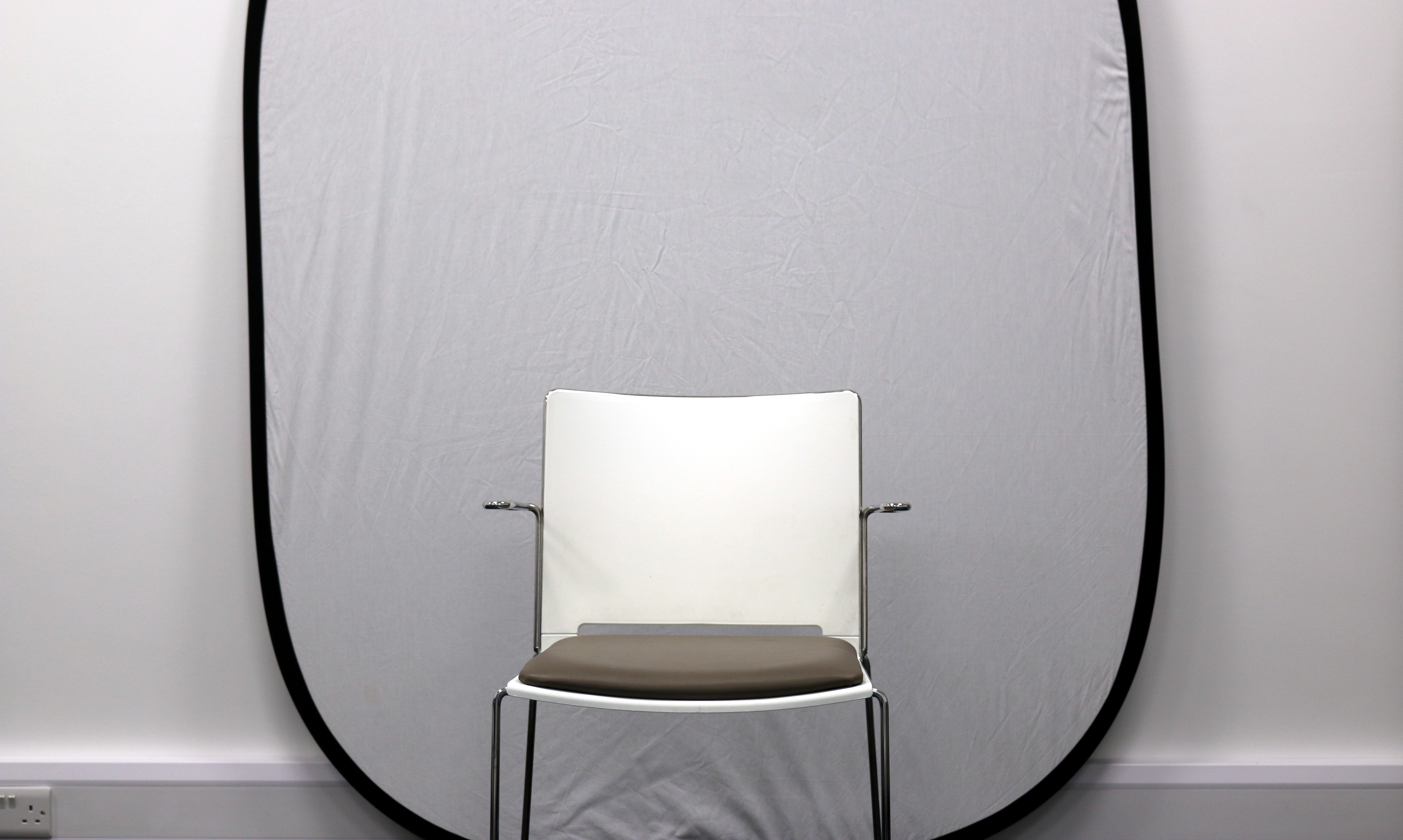 Bonus Tip: Place your colleague about one foot away from the wall to create a softer shadow behind them.
Lighting
One of the most critical factors in getting a bright and sharp ID photo is lighting. However, lighting is usually an afterthought for many. We can confidently say that bad lighting is one of the leading causes of low quality ID card photos.
Don't be tempted just to use the office lights. They're often not the right shade of lighting you want to be using, especially when taking pictures of people's faces. Using office lights usually leads to photos with an 'off' white balance.
Our advice is to invest in a professional lighting kit. Once you have the necessary equipment, you should run some test photos until you get the angle right.
If you fancy getting creative with your lighting, take a look at these basic lighting techniques. Otherwise, stick lights to both sides of your subject's face by using a method like the below: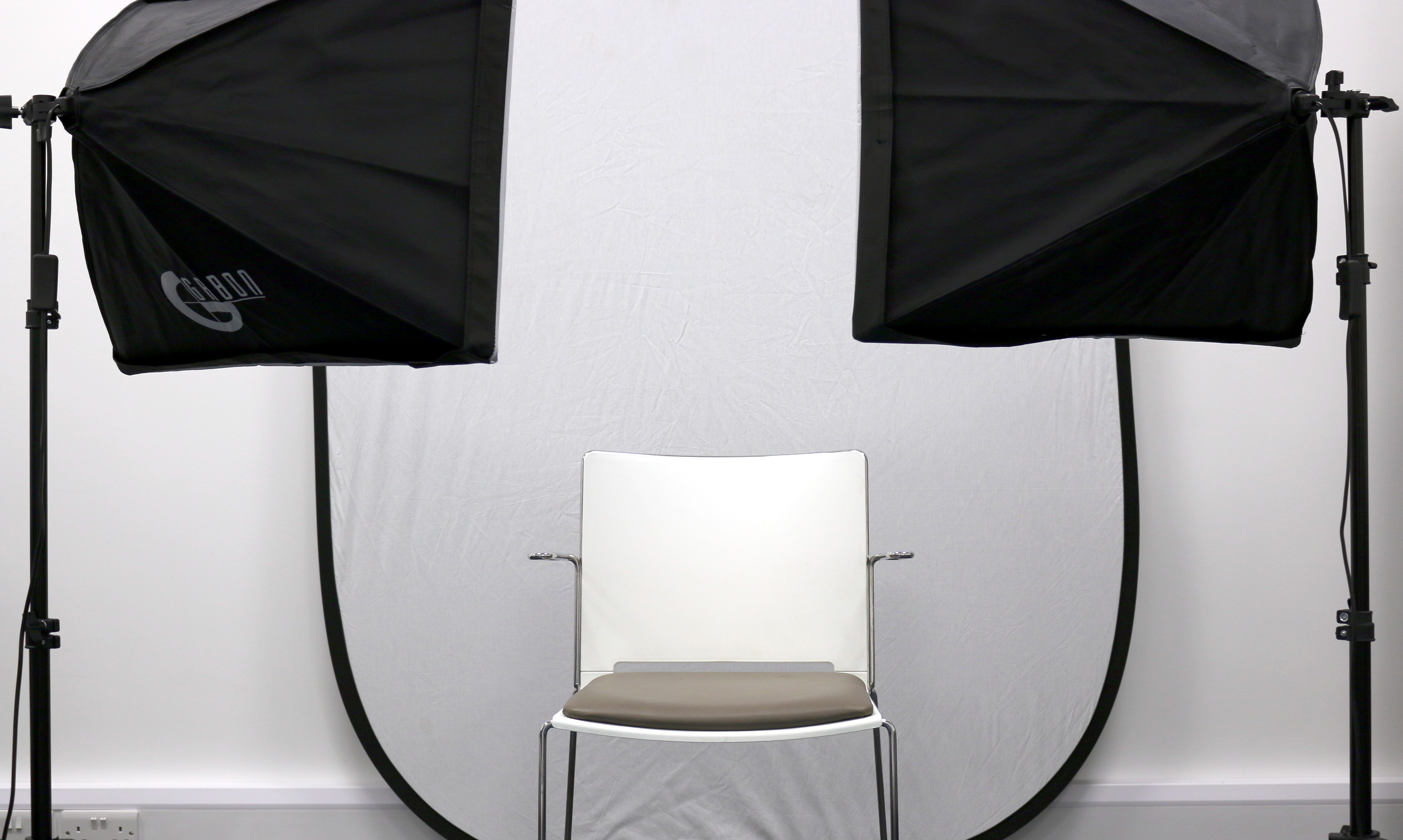 And if lightning kits are not an option, opt for natural light, which will give a more natural look.
Practice Shots
You know the saying, practice makes perfect. Find a colleague who doesn't mind being your model for half an hour and snap away.
Taking test shots not only helps the operation run smoothly, but it also means you've got some time to become comfortable with the camera.
Environment
Jumping in front of a camera on a tripod with a human staring at you from behind it – that can be pretty intimidating. Especially when there are two big lights on either side of you, and someone's asking you to smile.
When your colleague comes in, try to make some small talk with them to put them at ease. Make them aware that they've got all the time in the world – try not to rush them. Try to make them as comfortable as possible, as a comfortable person is a happier person. And while you're at it, have a quick search for some bad jokes to tell them – we all love a bad joke.
Camera Memory
If you're in full flow, the last thing you need is for your device to run out of memory. Make sure to check you've got more than enough space before taking your first picture.
Following the above tips will help you create the perfect staff ID card photo.
FAQs
We're often asked about ID card printing, with an example of a popular question being what info do you print to a photo ID card? With that being said, below are some of the questions we're frequently asked about creating the perfect staff ID card photo, followed by a few tips.
Can you take an ID photo yourself?
We don't recommend taking an ID photo yourself – that means no selfies. This is because the positioning will affect the lighting around you and lower your ID card photo quality.
Can staff ID photos be taken with a phone?
Yes. It's not necessary to take ID photos with a professional camera. A point and shoot camera or phone can also be used. However, if you decide to use a phone, opt for one with good camera quality to ensure your ID badge photo looks professional.
Additional tips
Make sure the camera or phone is on a tripod, as shaking hands can result in shaky and unclear pictures.
Try not to zoom in through the camera, as this lowers the quality of photos. Instead, try to position the camera closer to the subject.
Aim to shoot head-on with the subject's entire face in view. Ensure their nose is in the centre, or step back and shoot their shoulders as well. Either way, make sure the camera is pointing straight at them to capture the perfect photo.
Our photographer likes to tell people to concentrate on the lens. This makes it a little less daunting for the subject than looking right at the photographer.
You'll need somewhere for your cards to sit. Browse our range of ID card holders and get an instant quote online.
Let's Recap
Taking professional ID photos doesn't have to be difficult. With the appropriate surroundings, lighting and positioning, you're on your way to creating great ID card photos. Just remember to create a positive atmosphere for your subject and try to make them feel at ease.
If you decide to create your own employee ID cards, it's necessary to get the right ID card software.
Or to learn more about printing ID cards, take a look at our beginner's guide to printing photo ID.