Are you looking for the best ID card software that allows you to create, edit and print cards using an ID card printer?
These days they are much more than design software though; they also allow you to store cardholder details on an internal database and encode access control cards too.
We supply a host of different packages, but which one is considered the best? We've taken a look at the various ID card software options and decided which is best.
1. EasyBadge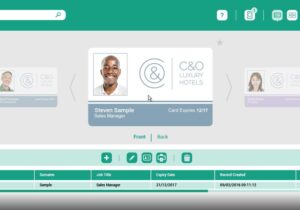 EasyBadge is considered to be the best ID card software by many – including us. It's a simple, reliable and affordable program which has  become popula because:
It is extremely user-friendly
It features in-built support
A card creator wizard makes ID card design simple
It is compatible with all 2020 ID card printers
It is available in several variations that cater to a wide spectrum of businesses.
EasyBadge Lite is the entry-level version which allows users to record up to 100 cards on its database.

EasyBadge Professional

 is the mid-range choice and features unlimited card database storage.

EasyBadge Enterprise

is designed for those requiring encoding options for access control cards such as MIFARE.
EasyBadge Bureau is a bespoke option that adds a client dashboard. This is best-suited to large organisations that need
Whichever version you require, you also gain access to a free smartphone application that can streamline your ID issuance system further. It allows you to create new records remotely, capture photos, sync data and amend database records on the go.
EasyBadge is a simple, reliable and affordable ID card software program, and gets our vote as the best in the business.
2. CardExchange Producer
CardExchange Producer is another excellent choice that makes badge printing as easy as possible. There are several versions on offer, similar to EasyBadge's range. Entry-level Go edition allows you to design ID cards with a step-by-step wizard, although you are limited to save a maximum of five card designs.
Card details can be saved on an internal database, although you aren't able to export the data for use in other locations. For that, you'll need to choose the mid-range Professional Edition. This will allow you to connect to MS databases increasing flexibility. With CardExchange Producer Premium you are also able to save an unlimited number of card designs and print various sizes of cards; ideal for larger organisations and high-volume printing requirements.
For those needing full encoding capability, CardExchange Producer Professional Edition is the best solution. As well as the ability to encode access control cards such as MIFARE, its interface is customisable too, while it features an auto-crop face recognition for printing highly accurate photographic identification.
3. Badgemaker
Badgemaker is another EasyBadge alternative and allows companies to effectively issue ID cards and manage data. Badgemaker Start software features three card designs, while its database can hold up to 201 records. Opting for the more advanced Badgemaker Base will give you unlimited card designs, unlimited database storage along with a number of add-on options should you so wish.
These add-ons include 'Connect', 'Encode' and 'Share'. They allow you do match data across multiple databases, encode access control cards and share projects across several systems – all useful tools if you are a large organisation with cardholder details stored in several different areas.
Direct from the printer manufacturers…
The three options above are all capable and powerful software, but manufacturers also offer programs that are optimised to work with their respective printers. They are also compatible with other printer makes too, but before choosing one of the below, make sure it will work with your printer.
4. Magicard TrustID V4
TrustID V4 is the latest software that has been created in partnership with Magicard. It aims to make ID card production as easy as possible. It focuses on offering intuitive card design, easy database integration and effortless printing.
Although it has been designed with smaller businesses and offices in mind, the platform is capable of being scaled up for use in much larger organisations too. While it is compatible with other brands, we'd only really recommend this software if you're using a Magicard ID card printer.
5. Datacard ID Works
Datacard ID works is a sophisticated identification card software that works seamlessly with Datacard printers.
Four versions exist, but ID Works Standard identification should more than suffice for most users. It features an advanced card design wizard, database management and supports access control card encoding.
Need more help choosing the right ID card software?
If this is the first time you've purchased ID card software, we can appreciate it can seem a little daunting.
We've a dedicated team of experts and support staff that will make sure you make the best purchasing decisions for you. Give us a call on 0800 988 2095 to find out more.
If you haven't bought a printer yet, check out our definitive list of the best ID card printers.